Meet topaz, a many-colored and often treated beauty. Hardness is excellent, but it's perfect cleavage demands some care in wearing. A sharp blow can cause your topaz to break quite cleanly in two.
Most topaz used in jewelry occurs naturally in yellow and colorless. Natural blues and pinks occur with extreme rarity. Most blues and pinks are the result of heat and radiation. In 2007, much of the blue topaz was pulled from the market when some of the material enterng the United States was found to be mildly radioactive. Since then, regulations have been put into place to monitor irradiated gemstones.
"Smokey Topaz" is actually quartz.
Imperial topaz is an amazing reddish gold color. One of my teachers at GIA was especially passionate about this, as many gem dealers will stick the descriptor "Imperial" on any slightly pinkish yellow topaz to make it sound more exotic. He took us to a museum to show us what Imperial Topaz really is. It resides in a vault within the museum.
Another way to fancy up the plentiful and inexpensive colorless topaz is to coat the pavilion with various substances. This includes Mystic Topaz and others with similar names and unnatural rainbow effects. The coating is fragile so be careful when cleaning.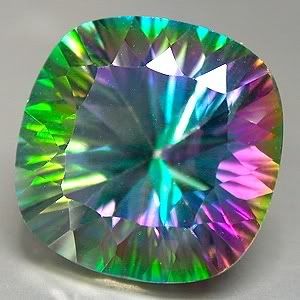 For your drooling pleasure, I give you some selections from our talented Starving Artists:
From the hands of
2BellesBeads
:
From
jeweledblossoms
:
From the bench of
TJRjewellery
:

Don't forget - the SATeam Wrist Candy Holiday Giveaway is on! You can win a fabulous charm bracelet if you enter by November 28th! Click here for more info!


Featuring artisan handmade creations by the Etsy Starving Artists jewelry team. SATeam members create handcrafted jewelry and beads. More information about our team and its current Etsy shop owner members can be found at SATEAM.etsy.com.