website:
Lissa Harlin Designs

Etsy:
Lissa Harlin Designs

Blog:
Bully Beads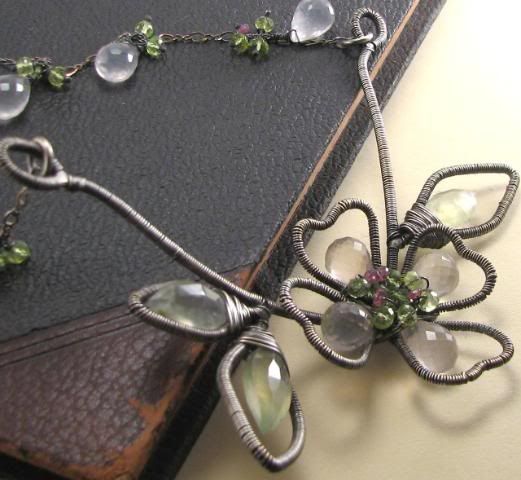 Lissa Harlin makes wire wrapped jewelry and uses some metal working techniques. Most of her pieces are made from sterling silver and gemstones. This Dogwood Blossom necklace is one of her most challenging pieces to date. She used a heavy gauge wire, soldered each piece to the wire, and wrapped the entire thing in fine gauge sterling. She used rose quartz for the petals, prehnite marquise for the leaves, and she wove the center in pink tourmaline and peridot.
Lissa told us, "I was first drawn to jewelry making from having to drive past a bead shop every day on the way to work. I'd always wanted to go in and finally after a year, I did. I had no idea what to do once I got in there with all the pens and baggies and bowls, so I quickly left before embarrassing myself! I went back a few weeks later and picked up a class schedule and took the beading 101 course and that started the whole obsession."
After that first class, Lissa quickly began learning on her own. She doesn't have a formal art background; when asked about her training, she quipped, "I never could decide on what to take in college, so I didn't go." Lissa did make a friend on Etsy, however, whom she describes as a "phenomenal wire wrapper;" Lissa learned how to wrap by asking her questions and looking at how she put things together.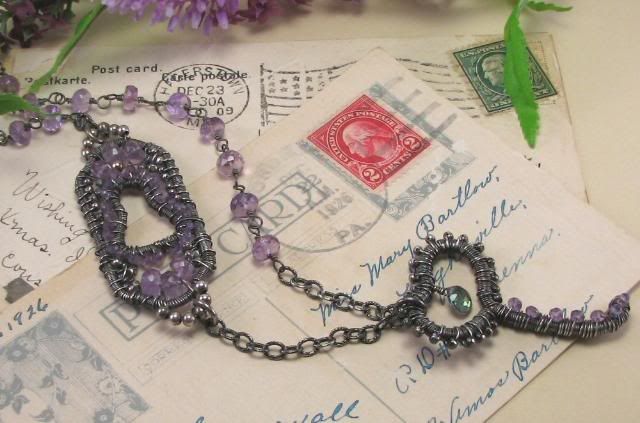 A self-proclaimed history nut, Lissa told us. "I guess it began back when my Dad would drag us off to the Gettysburg battlefield that was just 25 minutes away. One of my loves is old skeleton keys, so I thought it would be a great idea to make one with an escutcheon to go with it. This
Key To The Past Necklace
is made out of beautiful purple amethyst and a stunning mystic topaz in the center of the key.
Lissa admits, "I really don't have a philosophy behind my jewelry making; I make what I'm inspired to create. I never make drawings, I just gather materials and start putting something together. I try to make elements I see in nature come to life in a piece of jewelry. I am often inspired by things I see in nature or a poem I read; then an idea pops into my head and I try to recreate what I'd imagined."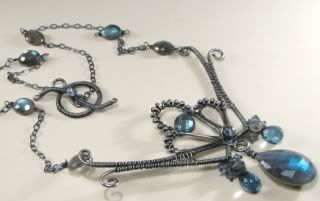 The Eye Of The Storm Necklace is Lissa's favorite piece to date. It features a huge, fabulous blue-flash labradorite, gem-grade London blue topaz, and mystic quartz. Lissa hand fabricated the entire piece, including the toggle. She told us with a laugh, that "The working title for this was p.i.t.a. It really was a pain to solder this piece the correct way, but I was totally pleased with the results."
A former employee of Harley Davidson, Lissa currently works as a machine operator. She told us ruefully, "It really doesn't leave me too much time these days to create too many of my more intricate pieces. I'm hoping to find some more creative time somehow, in between catching up on cleaning the house and doing business taxes. I really don't have too much time these days to create. I try to spend as much time on the weekends as I can making pieces; which leaves my house in sad shape most of the time!"
Luckily, Lissa has a fantastically supportive husband who only rolls his eyes occasionally when she asks him to look at the pretty new beads she's bought. In addition, she shares her heart with her two exceptionally adorable dogs: Cassie, the English Bulldog, and Gunner, the Boston Terrier.
Lissa told us, "I hope women feel feminine and beautiful wearing my pieces. I try to create one of a kind pieces I would hope would last through the generations of family members to love and cherish just as much as the one who purchased it."
We're very sure that they do.
The SATeam blog features artisan handmade creations by the etsy starving artists jewelry team. SATeam members create handcrafted jewelry and beads. More information about our team and its current etsy shop owner members can be found at SATEAM.etsy.com.